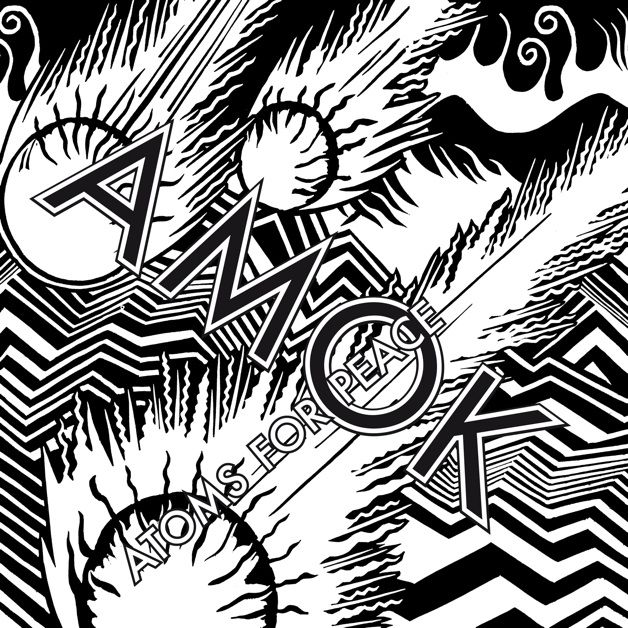 While brain storming expectations for the much anticipated debut album from Thom Yorke's Atoms For Peace, there are a few tangibles to work with.  For one, we know the members – Yorke, Flea, Nigel Goodrich (Radiohead Producer), Joey Waronker (Beck) & Mauro Refosco (dope-ass name).  Additionally, we've had a few tracks to digest with over the past year, including "Judge, Jury & Executioner" and "Default".  The title of the former is literally pulled from Hail to the Thief, so it's no surprise these advance singles didn't sound so far removed from the more recent releases in Radiohead's catalog.  Yorke has completely fallen in love with a familiar aesthetic since his 2006 solo album The Eraser.  Tell me if this sounds familiar.  Sparse instrumentation, glitchy electronic percussion and sustained vocal croons?  But honestly Thom, it's cool.  The most common beef with King of Limbs was that it "sounded like a Thom Yorke solo album".  People couldn't figure out what Jonny Greenwood was doing in their headphones or some shit.  Personally, I loved it — even before they floored people by demonstrating the complexity of the KOL arrangements in the basement.   Moral of the story? Yorke is from another planet, and you should just shut up and trust him.  Just be careful when calling it Radiohead, I guess.
Preconceived notions are batted with a hammer from the opening track "Before Your Very Eyes".  It's another step forward for Yorke — what a surprise.  It turns out to be one of the best representations on the entire album, with all sorts of individual character injected – particularly Flea's bass line.  Goodrich is surprisingly great behind the synths, which shouldn't be a surprise at all.  The man played a very prominent role in some of Radiohead's greatest masterpieces.  His virtuosity on the instrument isn't attributed to chops, necessarily, but his world-class ear.  The fantastic chorus on "Default" sounds like a conversation between Yorke and his esteemed producer.
From that point forward, Amok tests the limits of glitch.  As the melodies become less poignant, the rhythmic experimentation fragments to the edge of a cliff.  As a result, the middle of the album begins to lose it's impact, hitting the valley somewhere around "Dropped".  The track is disjointed and the structure is hard to follow.  An out of time metronome falls in the left ear at 3:30 and limps to the tracks duration.  Are you just fucking with us now, dude?  The album creeps along with small details such as that being the highlights.  "Unless" demonstrates his UK DJ influences, as it could have been mistaken for a Four Tet remix from the start.
The spidery drum beats continue through "Judge, Jury & Executioner" and "Reverse Running", and I can sense myself getting a little aggravated.  I love songs like "All I Need" and "Separator" because of those incredibly simple percussion arrangements.  Another complaint I once heard (from a fellow drummer) in regards to KOL was that it sounded like "skeletons of songs" — which was a brilliant way of putting it.  They did often lack some guts, and that's what I think many attributed as a lack of Jonny Greenwood.  It took me 3 albums worth of this type of material (The Eraser, KOL, Amok) to understand the beef.
And then all is right with the world.  The title track is an attention-grabbing closer, with it's bass line laid out flat and a simple, driving drum stem.  The chords build on top and leave perhaps the most memorable melody of the album.  Yorke's vocal is strong  and the mood is all encompassing.  It feels like it literally picks you up and dusts you off.  The ride was bumpy, and the tone approached uninviting, but Yorke drops us off right where he picked us up.