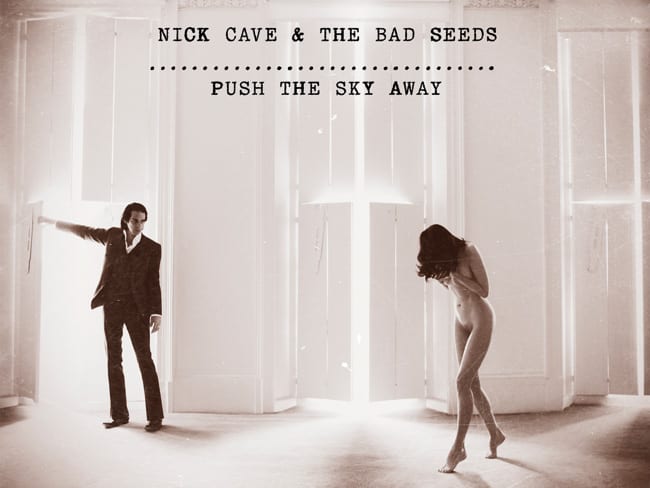 Nick Cave and the Bad Seeds have a new album, entitled Push the Sky Away. Only technically, there aren't any original Bad Seeds left in the group. That is no problem given Nick Cave is more than able to collaborate with just about anyone at this point. Push the Sky Away is merely more recent evidence to support this.
Many of the tracks are comforting in a slightly ghastly manner. The first song in particular, "We No Who U R" ables to capture both feelings with ease. The combination of the chant-like backup vocals and the soft instruments really brings out the gloomy and skeptical individual in anyone taking in the album—but who says that's a bad thing? Cave and company have a complete grasp of where they take the listener throughout every song.
The tempo of the album as a whole begs for the listener to stay idle with only their thoughts. It's a pitter-patter of sorts. The tunes arent't the most energetic but that is done purposely to give some sort of self-reflection. After all, the only way we can connect with a certain artist or track is if we can grasp it within. Cave and the Bad seeds want to take it a step further and allow the listener to brood with the tone of a track as it is happening. Cave's vocals then become that narrative guiding those ever-brooding sentiments the band established. Especially in the first song, the lyrics "Breathe it in" keep repeating. Yes, he narrator definitely has an intended audience but Cave's vocals are directly speaking to the listener and creating a more meta approach to music experience.
The minimalism is evident is virtually every song. Some work, while others leave something to be desired. Nevertheless, the new album as a whole is a welcome addition to the Bad Seeds collection for old fans and for new ones who are looking to get into the work of the great Nick Cave.
Nick Cave and the Bad Seed's Push the Sky Away is out now on Bad Seed Ltd. 
---
Hector Diaz (iamHectorDiaz) covers sports, music and professional wrestling for a variety of sites, all of which can be found at iamHectorDiaz.com